West Jasper Place is an established neighbourhood located in the heart of West Edmonton. Once a part of the original Town of Jasper Place (est. 1910), this charming community didn't become a part of greater Edmonton until the early 1960s – ultimately marking the beginning of West Edmonton as we know it today. Characterized by quiet streets, mature trees and proximity to vast open green spaces and amenities, West Jasper Place offers a diverse range of home styles suited to every taste, budget and lifestyle.
Did you know? The original land comprising the Town of Jasper Place also included the communities we now know as Britannia-Youngstown, Canora, Elmwood, Glenwood, High Park, Lynnwood, Sherwood, West Meadowlark Park and several industrial districts.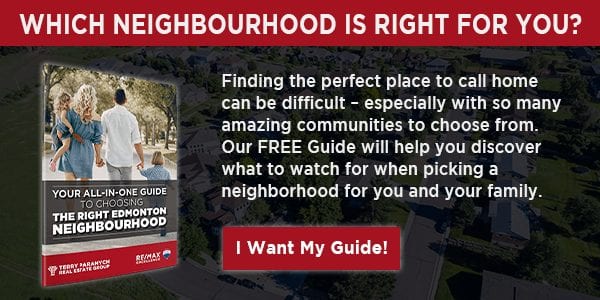 Real Estate and Homes For Sale and Real Estate Opportunities in West Jasper Place
Low-rise apartment-style condos are the predominant home style in West Jasper Place. Noted for their affordability, the average two-bedroom, one bath apartment can be purchased for below $100,000, making West Jasper Place ideal for first-time buyers and working professionals searching for a low-maintenance home. The neighbourhood also features a high number of rental units – a fantastic opportunity for Edmonton real estate investors.
Following apartment-style condos, single-family homes account for roughly one-third of home styles within West Jasper Place. From updated pre- and post-war bungalows on large lots to brand-new, two-story infill homes (and everything in between), families are frequently drawn to West Jasper Place based on its unique array of detached dwellings. A small number of new and renovated duplexes can also be found throughout the community, with average prices starting in the mid-200s.
Average Listing Price in West Jasper Place: $362,000
See Homes For Sale in West Jasper Place
Did you know? Many of West Jasper Place's older, detached character homes have been replaced with low-rise apartments, particularly along Stony Plain Road, 140th and 156th Streets. As a result, the area's highest concentration of single-family homes exists within the neighbourhood's interior.
Amenities
Despite the community's quiet reputation, West Jasper Place is defined by several major thoroughfares, including Stony Plain Road and 149th Street. As such, residents enjoy having access to the endless variety of shops and services, such as grocers, retailers, trendy restaurants and coffee shops. West Jasper Place also sits within short driving distance of several major shopping hubs, including the famed West Edmonton Mall.
Other nearby West Edmonton amenities include:
Did you know? One of the largest shopping malls in the world, West Edmonton Mall features 800+ stores and services, a water park, indoor amusement park, NHL-sized skating rink, movie theatre, casino and more.

Parks and Recreation
West Jasper Place is situated within close proximity to the North Saskatchewan River Valley. As a result, homeowners can easily take advantage of Edmonton's best outdoor amenities, including the MacKinnon Ravine, Government House Park and a vast network of bike paths and walking trails. Locally, the neighbourhood also houses a small park site, playground, soccer field, skating rink, tennis courts and the West Jasper Sherwood Community League.
Additional recreational amenities in and around West Jasper Place include:
Did you know? Developed in 1896 before the City of Edmonton was founded, Victoria Golf Course is Canada's oldest city-run fairway. The course sits just a 10-minute drive east of West Jasper Place.
Educational Opportunities
While there are no schools within West Jasper Place, educational opportunities remain abundant within the surrounding neighbourhoods and can be easily accessed on foot. The area also offers several daycares, preschools and out-of-school care programs.
Designated Public Schools:
Designated Catholic Schools:
Other:
Did you know? Known as the Orange Hub, Yellowhead Tribal College is located near the northwest corner of West Jasper Place. Established in 1986, the college is run by four member nations of Treaty 6 and specializes in academic programming that nurtures Indigenous cultures and traditions.

Swift Access to Central Edmonton
West Jasper Place is bounded by 156th Street to the west, 100th Ave (Stony Plain Road) to the north, 149th Street to the east and 95th Ave to the south. 100th Ave is particularly convenient for residents needing to access the west Anthony Henday or the downtown core and 149th Street provides a streamlined commute to both Whitemud Drive and the Yellowhead Highway.

West Jasper Place also boasts plenty of public transit options, including plans for Edmonton's future West LRT route. The community is also considered highly walkable as most day-to-day errands are easily accomplished on foot.

Did you know? Edmonton's West LRT route will represent phase two of the larger Valley LRT line – a 27km line that will operate between Mill Woods in Southeast Edmonton to Lewis Farms in West Edmonton.

For more information on Edmonton homes for sale or real estate opportunities in West Jasper Place, get in touch with us! We also invite you to have the latest Edmonton real estate market updates, home buying tips, home selling information and more delivered directly to your inbox by subscribing to our newsletter below.

Terry Paranych on
Tags