Don't let buyer's market conditions deter you from listing your home for a great sale. Instead, take advantage of these top three buyer's market benefits.
1. You Have a REALTOR® on Your Side
Home sellers working with a qualified Edmonton REALTOR® will always have the edge they need to succeed in a buyer's market. Here's why:
Your REALTOR® will help you capitalize and improve upon your home's value as much as possible prior to listing, allowing you squeeze every dollar from your home sale.
They'll list your home for a fair yet competitive asking price, putting you in a good position to sell your home fast and for top dollar.
They will create a competitive marketing plan that guarantees you'll be noticed by buyers (this includes an impressive Edmonton MLS listing, real estate advertising and promotion and much more).
They will negotiate with competitive buyer's agents on your behalf, saving your time, money and headaches, while protecting your interests (ensuring you get what you truly deserve for your current home).
Etc.

2. You're Also A Buyer
As a home seller, you're likely also a home buyer. This means you will also benefit from buyer's market conditions. which often include:
A surplus of inventory – More homes on the market means more choice and more time to zero-in on what you really want.
Competitive asking prices – Ultimately saving you more than if you were to purchase in a seller's market (where you may sell your current home for more money, but you'll likely have to pay more for your new one).
Easier seller negotiations – These may consist of a more flexible move-in date, seller credits for renovations or repairs, fewer conditions, reduced closing costs, etc.
Low-interest rates – With Edmonton's interest rates at an all-time low, you will benefit from additional savings on your new home purchase.
3. It's Easy To Price For Multiple Offers
A buyer's market can also result in multiple offers and a higher asking price for your home – if you price it right. To do this, you'll require a Free Home Evaluation. Conducted by your REALTOR®, your Free Home Evaluation will allow you to:
Understand your home's true market value and what buyers would be willing to pay for it within a 30 – 90 day period (it may be much more than you think).
Price your home aggressively enough to attract attention, yet high enough to receive just value.
Stand out among other seller's in your area, therefore reducing days on market and saving you time and money.
Improve upon your home's current value for an increased asking price that still attracts buyers.
Thinking of selling your Edmonton home? Assess how much your home is worth with our Free Market Evaluation! Simply click the button below to get started.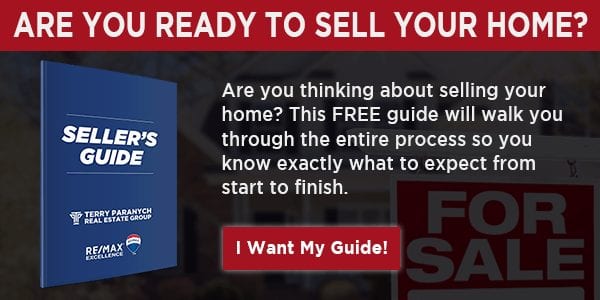 We'd also like to invite you to take advantage of our many free seller's resources, including:
Posted by Terry Paranych on
Tags