Is it really possible to buy a home in Edmonton AND save money at the same time? With the right information, you bet it is. Here are a few key strategies to help you buy your dream home without breaking the bank.
Work With an Edmonton REALTOR®
Whether you're just starting out or you've had tons of real estate experience, partnering with a qualified Edmonton REALTOR® WILL save you money (potentially thousands)! Navigating current market conditions, assessing a home's true value and expert negotiation skills are just a few of the many ways your agent will help you save on your dream home.
Establish Your Wants Vs. Your NEEDS
Viewing homes without understanding your wants and needs is a lot like visiting the grocery store with no grocery list; it's easy to overspend. Save money before you even begin your search by listing your basic "must-haves" (such as price, number of bedrooms, bathrooms and location) and work your way outward. While that's not to say you can't have those beautiful hardwood floors or granite countertops, your list will keep you focused on the things that matter, first. P.S. This will also allow your REALTOR® to narrow down your search options, saving you TONS of time.
Build Your Credit
Your credit score will have a direct impact on your mortgage rate. In short, the better your credit, the more affordable your mortgage will be in the long run (leading to huge savings every year). Because higher credit scores are generally rewarded with better rates by lenders, you'll want to check your credit report (and make improvements if needed) before applying for a loan.
*See these helpful tips for improving your credit score

Shop Around for the Best Rate
Speaking of mortgage rates, we recommend shopping around. While you may be tempted to simply sign on the dotted line with your current bank, rates can vary greatly from lender to lender. Take the time to get a few quotes – even the tiniest percentage point can really add up over the course of your loan. Here too, keep in mind getting a quote doesn't obligate you to work with that lender.
Minimize Mortgage Insurance
5% is the minimum down payment required for a home in Canada. Down payments of less than 20% will require homeowners to pay CMHC mortgage insurance (or private mortgage insurance) on top of their regular mortgage loan amount. While we know not everyone can afford a 20% down payment, the good news is, the more you put down, the cheaper your insurance will be.
For instance, 5% down on a home valued at $450,000 (25-year amortization) will require you to pay an additional $17,100 in mortgage insurance costs. The same home with a 10% down payment will require you to pay $12,555 – a difference of over $4,500.
*You can use a down payment calculator to determine what your mortgage insurance will costs will be
Consider a "Fixer-Upper"
Of course, we don't mean settling for a home requiring major repairs or upgrades. But, if you plan to stay in your new Edmonton home for several years, you do have the option of saving money upfront and investing in changes over time. If you're willing to wait until your funds replenish before finishing the basement, replacing the countertops, renovating the bathroom etc., you can purchase a more affordable home and perfect it along the way.
Time Your Purchase
If you're not too particular about WHEN you buy your home, ask your Edmonton REALTOR® about timing your purchase. As we mentioned, their expertise when it comes to current market conditions allows them to determine whether it's a buyer's or seller's market. Although your agent will help you save in any situation, having a sense of timing allows you to figure out if you'd rather wait or adjust your budget (if needed).
For all the home buying advice you need (and more) download your FREE copy of our Buyer's Guide! Just click the button below: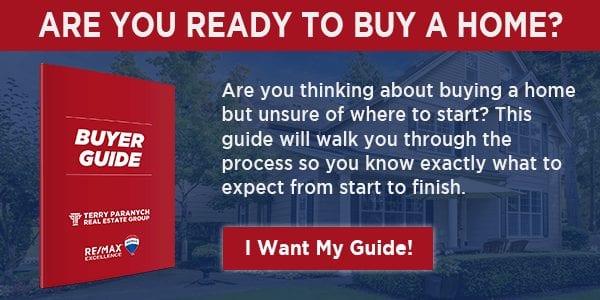 Posted by Terry Paranych on
Tags