Edmonton is home to some of the best farmers' markets around. From fresh produce and tasty treats to handcrafted clothing and accessories, local vendors always have wonderful wares to share. Be sure to check out one of these amazing markets near you.

North Edmonton
Miller Crossing Farmers' Market
Royal Canadian Kingsway Legion #175, 14339 50 St.
Hours: Sundays, 11am-3pm, Year-round
Open year-round, the Miller Crossing Farmers' Market is home to dozens of vendors. Stop by to get your fill of farm fresh honey, take a class or check out the local entertainment.
118th Ave and 40 St.
Hours: Tuesdays, 4-8pm, May-October
Known as the friendliest farmers' market in Edmonton, Beverly Towne is currently home to 40 vendors and is easily accessible via the Anthony Henday and Yellowhead Trail.
Central Edmonton
Old Strathcona Farmers' Market
10310 83 Ave
Hours: Saturdays, 8am-3pm, Year-round
"We Make It! We Bake It! We Grow It! We Sell It!". Established in 1983, Old Strathcona is Edmonton's largest (and first) indoor farmers' market. Rotating through over 300 popular vendors a year, you're sure to find everything you need, and then some!
108 Ave and 124 St.
Thursdays, 4pm-8pm, May-October
102 Ave and 124 St.
Sundays, 11am-3pm, June-September
So popular it has now spread to two locations, the 124st Grand Market is trendy, fun and ripe with things to see, hear and do. Don't miss out on your chance to visit the "Grandest Market" in Edmonton!
Edmonton Downtown Farmers' Market
* The Edmonton Downtown Famer's Market is moving, see the website for hours and location
An integral part of downtown Edmonton for well over a century, this year-round market offers visitors a variety of ready-to-eat meals, local entertainment, farm-fresh produce and a variety of other wares and services throughout the year.
Southwest Edmonton
10915 23 Ave
Hours: Sundays, 10am-3pm, June-September
In operation since 2012, the Century Park Market brings the "fresh" to you with a variety of homemade baked goods, fruits, veggies, meats, treats and a whole lot more. It's also incredibly easy to access via transit.
Southeast Edmonton
3696 97 St.
Hours: Friday, Saturday, Sunday, 9am-5pm, Year-round
From soup to nuts (literally), Bountiful has it all. In addition to local fare, the market hosts live entertainment and classes for both children and adults. Even better, the venue is indoors – allowing you to shop til' you drop rain or shine.
Edmonton South Common Farmers' Market
Parsons Road and 19th Ave
Hours: Saturdays and Sundays, 10am-4pm, May-October
Often referred to as the "market with heart", Edmonton South Common is a socially conscious market that believes in supporting local vendors and charities. It's pet and parking-friendly, too!
7207 28 Ave
Hours: Thursdays, 5pm-8pm, June-September
The Millwoods Famers' Market has been going strong for over 34 years. Located in the parking lot of the Millwoods Recreation Centre, the market offers visitors ample free parking and a wide range of produce, prepared foods and artisan crafted wares.
Southwest Edmonton
Southwest Edmonton Farmers' Market
2051 Leger Road
Hours: Wednesdays, 4pm-7:30pm, May-October
Not only is this market host to over 80 talented vendors, but it's also home to the child-centric "Sprouts" program. A free club encouraging healthy food and lifestyle choices, Sprouts kids receive $2 to spend toward fresh fruits and vegetables every week (along with free easy-to-follow recipes).
West Edmonton
66 Ave and 178 St.
Hours: Sundays, 10am-3pm, Wednesdays, 12pm-5pm, May-October
Whatever you're in the "market" for, you're sure to find it here. Voted as one of Edmonton's favourites, Callingwood hosts a wide variety of vendors as well as workshops, buskers, kids' activities and much more.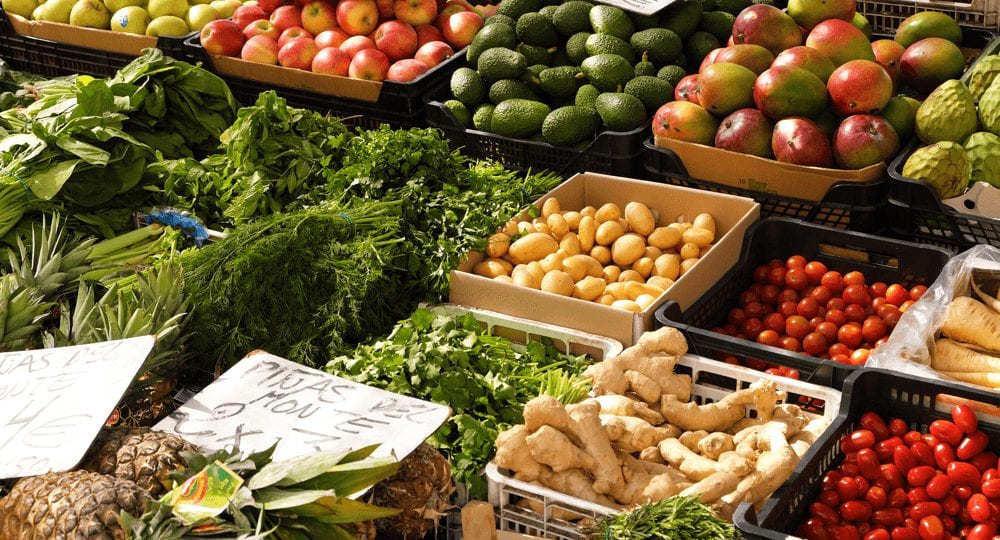 Sherwood Park
Hours:
Summer
2025 Oak St, Broadmoor Lake Plaza
Wednesdays, 4pm-8pm, May-October
Winter
401 Festival Lane
Wednesdays, 4pm-8pm, October-May
The Sherwood Park Farmers' market has been delighting Strathcona residents for over 40 years. Situated in beautiful Broadmoor Lake Park in the summer and indoors on Festival Lane in the winter, there are a variety of vendors to choose from year-round.
Salisbury Green House
52337 Range Road 232, Sherwood Park
Hours: Thursdays, 4pm-7:30 pm, Year-round
Just south of Wye Road sits yet another one of Sherwood Park's ultra-popular year-round markets. Here you'll find fresh produce, ethnic foods, clothing, body care products, home décor and more.
200-390 Baseline Rd, Sherwood Park
Hours: Wednesdays, 4-8pm, May-September
Fun, friendly and full of fantastic vendors, the Baseline Market is situated in the Home Depot parking lot, adjacent to Baseline Road and Sherwood Drive. The venue includes over 70 local merchants eager to share their wares rain or shine.
St. Albert
St. Albert Outdoor Famer's Market
St. Albert and District Chamber of Commerce
71 St. Albert Trail, St. Albert
Hours: Saturdays, 10am-3pm June-October
One of the most popular markets in the capital region, the St. Albert Farmers' Market sees a whopping 15 -20,000 people every Saturday. With over 270 vendors and plenty to see and do, it's easy to see why!
Fort Saskatchewan
Downtown, 102 St.
Hours: Saturdays, 10am-2pm, July-August
Catch this one before its gone! Open for just 9 weeks during the summer, the Downtown Market offers loads of family-friendly entertainment, tasty treats and exciting things to do.
10030 90 Ave, Fort Saskatchewan
Hours: Thursdays, 4:30pm-7:30pm, June-September
Nestled in scenic Legacy Park (next to the historic railway station), sits Fort Saskatchewan's other popular market. Here you'll find over 80 local merchants, snacks, entertainment and activities for the kids.
Spruce Grove
120 Railway Ave, Spruce Grove
Hours: Saturdays, 9:30am-1:30 pm, April-December
The Spruce Grove Market has been delighting visitors for over 40 years. Become a favourite customer and you may even score free coffee and a few homemade treats.
Stony Plain
5008-51 Ave, Stony Plain Community Centre
Hours: Saturdays, 9am-1pm, April-December
So big it takes up two floors, the Stony Plain Market hosts dozens of local vendors offering visitors everything from bookmarks to birdhouses. Don't forget to grab your 50/50 raffle ticket while you're there!
Feel free to check our blog for more fun and informative posts.
Posted by Terry Paranych on
Tags