Of course, buying a home in Edmonton during the spring (or early summer) certainly has its perks. After all, it's the most popular time of year for real estate. BUT, did you know for every good reason to buy in the spring, there's an equally GREAT incentive to buy in the fall?
Here are a few things to consider:

1. Less Competition
One of the first (and best) reasons to consider buying in the fall is the lack of competition. As Edmonton's hot weather tapers off, so does the real estate market. Because many homebuyers have already opted to purchase earlier in the year, there will be less buyer-based competition for you to worry about.
2. Taking Your Time
Less competition also results in less pressure to run out and buy the first reasonable property you see. This affords you extra time to think about what you're looking for and truly assess your wants vs. needs. It also means you'll have more opportunity to shop around and compare what's currently on the Edmonton market.
3. Sellers Want to Sell
During peak season, sellers often have the luxury of being "choosy" when it comes to interested buyers. After all, they're benefitting from the busiest time of year and feel less pressure to accept the first offer they receive. A fall listing, however, may indicate that the seller has made a split-second decision to put their home on the market OR the home has been sitting for a while. In either case, they're likely to take any reasonable offer seriously.
4. Easier Negotiations
Here again, seller-urgency can really pay off – literally! During the fall, home sellers are often more open to price negotiations, especially if the home has been on the market for a few weeks. Of course, they may have already reduced their asking price for a quicker sale, but you may still benefit from other perks such as a more flexible move-in date.
5. Affordable Moving Costs
As you can probably imagine, peak real-estate season is also peak moving season. For this reason, moving companies are less incentivized to offer discounts during spring and summer. However, once fall rolls around, movers are more likely to offer reduced rates – just be sure to shop around. Did we mention they're also much easier to book?

6. Perfect Weather (hopefully)
Speaking of moving…no one wants to lug boxes around in 30-degree weather – plus or minus. Since Edmonton's fall climate tends to be quite moderate (usually!), it's the ideal time of year for making your move easier.
7. Holiday-Ready
Fall is the ultimate holiday-friendly time to buy for two reasons: 1) You won't have to sacrifice your summer holidays house-hunting, moving and unpacking and 2) You'll be moved-in and settled before the upcoming holiday season(s). Imagine celebrating Thanksgiving and Christmas in your new home!
8. Sales, Sales and More Sales!
As the colder weather approaches, retailers are prone to discounting their merchandise to make room for next year's stock. This means you can look forward to great pricing on outdoor equipment, accessories, furniture, etc. In fact, fall is recognized as the BEST time of year to buy linens, large appliances, barbecues, air conditioners, televisions, cookware and much more.*
*As per maplemoney.com
Thinking about buying or selling a home in Edmonton? Learn everything you need to know by downloading your FREE copy of either our Buyer Guide or Seller Guide!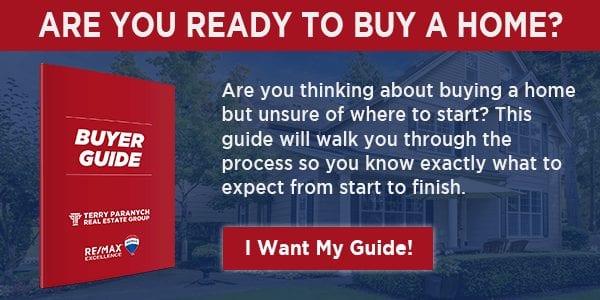 Posted by Terry Paranych on
Tags