Looking for affordable, amenity-friendly living with a small-town feel? A bedroom community may be exactly what you've been searching for! Neighbouring suburban towns and cities such as St. Albert, Spruce Grove, Stony Plain, Fort Saskatchewan, and many more, are seeing rapid increases in popularity thanks to the amazing benefits they have to offer.
Here are just a few of many great reasons to consider calling a bedroom community home:
1. Affordability
One of the first and best reasons to buy into a bedroom community is the home prices – and the potential to get more bang for your buck. For instance, say you're in the market for a single-family home. Because prices in the surrounding areas can vary by (tens) of thousands of dollars (compared to Edmonton) you may be able to afford a home with significantly more square footage for the same price or less. You might also benefit from reduced property taxes!
2. Amenities
There's a common misconception that life in a bedroom community is a trade-off between affordability and amenities. Not true! From restaurants to recreation centers, they offer all the family-friendly amenities one could ask for, and then some. In fact, many of these neighbouring areas are preferred thanks to their reputable schools, beautiful parks and green spaces, niche shops and boutiques, local eateries and more.
3. Accessibility
While it's true, living in a bedroom community may put more distance between you and the office, you might be looking at a more streamlined commute. Because many of Edmonton's neighbouring towns and cities are conveniently located along major arterial roads such as Hwy 16 (Yellowhead), Hwy 16A, the Anthony Henday and Hwy 2 (to name a few). Thanks to the ultra-accessibility of these areas, residents can look forward to getting where they need to go in a hurry.
4. Sense of Community
Remember that small-town feel we mentioned? That's precisely what you'll get in a bedroom community. Often accompanied by their own sense of identity (i.e. local sports teams, events, traditions, etc.), bedroom communities allow residents to really get to know their neighbours – creating a tight-knit neighbourhood feel that only a small town (or city) can provide.
5. Reduced Crime Rates
Thanks to their reduced size, Edmonton's bedroom communities benefit from lower crime rates. This is, of course, due to a smaller population (fewer people= fewer incidents) but also, in part, thanks to the strong sense of community, mentioned above.
*Visit the Government of Alberta website for specific crime-related stats
6. Increased Home Value
Due to their popularity, many of these surrounding areas continue to grow and thrive. With the development of these communities comes the development of new amenities – including schools, shopping venues, services and more. As with any flourishing municipality, this amounts to steadily increasing home and property values – making bedroom communities an ideal investment for any savvy home buyer.
Are you interested in purchasing a home in Edmonton's surrounding areas? Our friendly team of experts can help! Give us a call or reach out through our website, we'll be happy to tell you more.
Don't forget your free copy of our All-In-One Guide to Choosing the Right Edmonton Neighbourhood!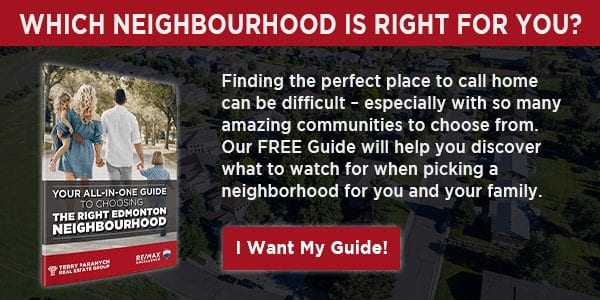 Posted by Terry Paranych on
Tags