Edmonton Homes & Decorative Styles
Do you want to decorate your Edmonton home?
Whether its a North Edmonton home or a house South of the river, any property can feel like new by adding a touch of your decorative style! If you're unsure where to begin you're reading the right article—having an understanding of some of the basic elements in each style can help you when it comes to time to decorate. In turn, you'll be able to locate the perfect accessories to compliment your Edmonton home. Therefore saving time and money! Below are some of the most common decorative styles used in Edmonton real estate homes.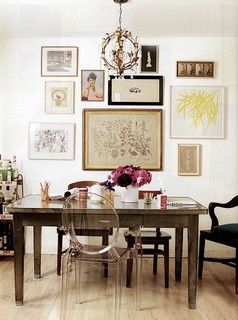 • A Mid-century Modern Edmonton home will have clean simple lines inspired by 1960's and 1970's furniture. This evolving style is best seen on popular modern day television series such as Mad Men. To get the look, visit a vintage store and browse through their furniture for pieces that fit your lifestyle and budget.
• If you love the great outdoors and can't get enough of cute cottages, a Rustic Style is for you! To incorporate raw natural beauty and earthy elements to your home, look for wooden furniture, weathered materials, and warm earthy colours.
• The Eclectic Decorating Style (view image to the right) is popular among free-spirited Edmonton homeowners. It balances old and new mismatching elements to create the perfect display of your personality. Don't be afraid to layer textures, and mismatch your furniture; however, keep your backgrounds plain so you don't overdo it.
• Want a Transitional feel in your Edmonton home? This decorating style is often used to radiate harmony inside a home. Transitional is all about balance and using the "best of both worlds." Pair items throughout your home to create balance. Add splashes of colour for depth and dimension, without overpowering the room.
The most important thing to keep in mind when decorating your Edmonton home, is to find something you love. After all, you will be the one looking at that piece of artwork in the living room for days to come. There are many variations of each style and your may end up with a mixture of those mentioned— so explore your creativity and have fun.
Are you ready to purchase an Edmonton home and decorate it with your own unique style, contact The Paranych Team. Alternatively, you can also browse through current Edmonton and area real estate listings to find your next property to call home!
Tags: Home Decorating Paranych Tips